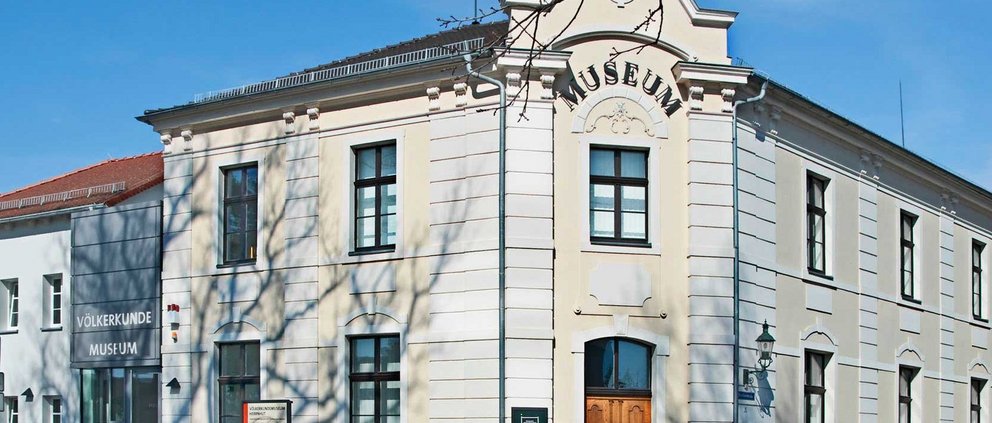 Völkerkundemuseum Herrnhut
Herrnhut is approximately 100 kilometres West of Dresden in the region of Upper Lusatia (Oberlausitz). Few people are aware that it is possible to journey around the world without leaving this small town.
In the course of their missionary work, the men and women of the Unity of the Brethren, which was formed in 1727 in Herrnhut, brought ethnological objects from many different parts of the world back to this town. The local pharmacist, Bernhard Kinne (1812-95), took it upon himself to unite these collections in a single museum and to make them accessible to the public. In 2003, on the occasion of the 125th anniversary of the founding of the museum, a new permanent display, 'Ethnographie und Herrnhuter Mission', was set up in the Goethestraße 1. It dealt with the historical cultures of the peoples visited by the missionaries of the Unity of Brethren. The exhibition also pays tribute to the achievements of these missionaries. Through their observations, written records, and their collections of ethnological artefacts, they made a significant contribution to the preservation and dissemination of knowledge about these groups and their cultures. In addition to the permanent display, temporary exhibitions on ethnology and the history of missionary work are regularly shown in the annex, which was completed in 1994.
Permanent exhibition
Völkerkundemuseum Herrnhut
Today, the museum holds approximately 7,000 objects, most of which entered the collection between 1878 and 1940.
Learn more
location
Building
Völkerkundemuseum Herrnhut
Goethestraße 1
02747 Herrnhut