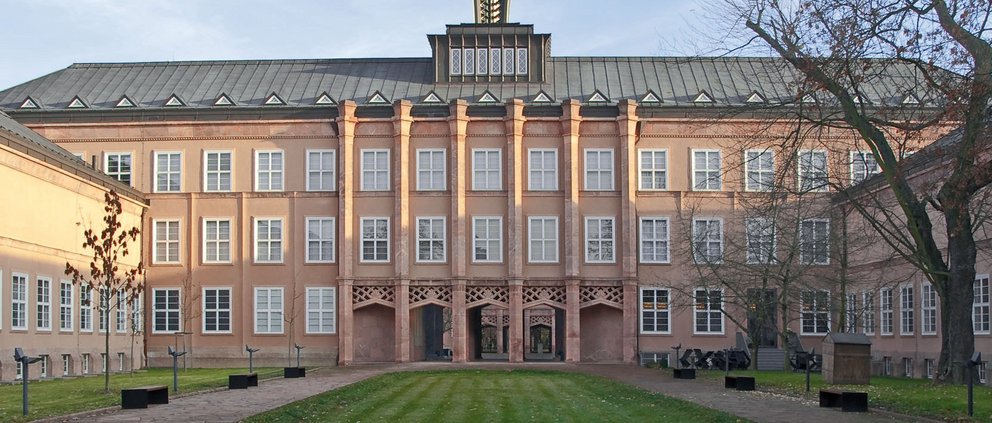 GRASSI Museum Leipzig
Just a few steps from the city centre, visitors arrive at Leipzig's museum island: the Grassimuseum. The singular ensemble of buildings brings together three institutions under one roof: the Museum für Völkerkunde zu Leipzig (the Leipzig Museum of Ethnography), the Museum für Angewandte Kunst (the Museum of Applied Arts) and the Museum für Musikinstrumente (Museum for Musical Instruments). In addition to the temporary and permanent exhibitions, the landscaped inner courtyard and gardens invite guests to come and stay a while, as do the adjoining park-like historical Johannisfriedhof (Johannis Cemetery), three events spaces, a museum shop and a cafe. The ensemble owes its name to the merchant and banker Franz Dominic Grassi (1801–1880), who had financed the previous building on the site at the end of the nineteenth century. The Grassimuseum, built between 1925 and 1929, was one of the few museum buildings constructed in the 1920s. The iron-framework construction in the style of New Objectivity is adorned with art deco elements and receives its particular character through the reddish porphyry which comes from Rochlitz, about sixty kilometres away. Today it is a listed building and is in the so-called "blue book" of buildings of cultural significance in Germany's new federal states.
On the night of 3/4 December 1943, and again in February 1945, the museum complex was heavily damaged by fire and high-explosive bombs; the windows of the stairwell, which had been designed by Bauhaus exponent Josef Albers (1888–1976) also did not survive the war. The work of clearing away rubble and rebuilding began immediately after the war and the first provisional exhibitions were able to open in 1949. However, in East Germany only the most necessary measures were taken to maintain the building.
It was not until 2001–2005 that the complex underwent thorough renovation and modernization. Since then, the reconstruction of the "golden pineapple" – an art deco form made of serrate vase-like shapes – has crowned the main facade of the museum, restoring the historical silhouette a good sixty years later. Thanks to a fundraising campaign, the reconstructed windows of Josef Albers could also be presented to the public on 4 December 2011. Along with the art deco pillared hall and the colourful reconstructed stairways, they are a highlight of the museum's interior design.
Admission
groups (10 persons and more)
7 €
Location
Building
GRASSI Museum Leipzig
Johannisplatz 5-11
04103 Leipzig
Directions