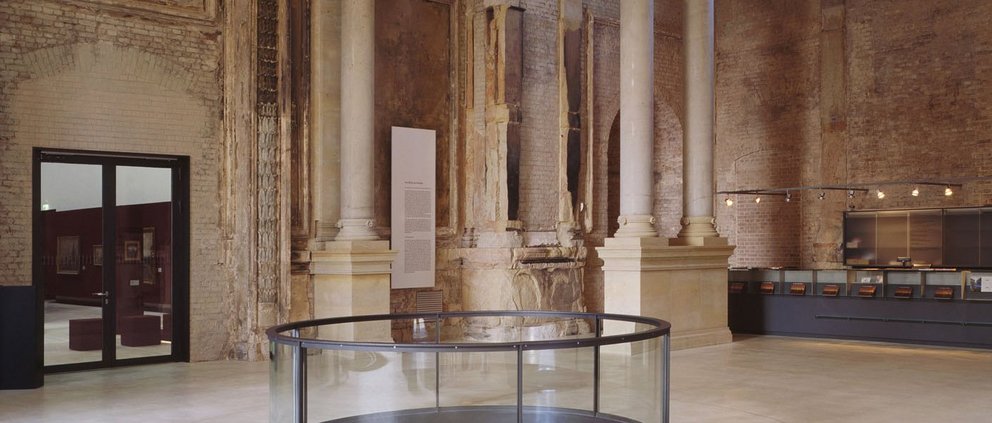 Kunsthalle im Lipsiusbau
Between the Frauenkirche and the Brühlsche Terrasse an impressive building for the arts was constructed in the 19th century. With its glass dome – nicknamed the "lemon squeezer" on account of its form – the building is a prominent feature on Dresden's skyline. When it was first built the "lemon squeezer" was highly controversial because it was seen as rivalling the dome of the Frauenkirche. Today, however, it is regarded as an enrichment to the city's historic Altstadt.
The ornately decorated complex of buildings was called the "Lipsiusbau" after its creator, Professor of Architecture Constantin Lipsius. In addition to the Kunstakademie, it accommodated the exhibition building belonging to the Sächsischer Kunstverein (Saxon Art Society). Over many decades sensational art exhibitions were held here. For example, as early as 1905 the painters of the newly founded artists' group "Brücke" were already represented in the Kunstverein exhibitions. After its partial destruction in 1945 the exhibition building was left in a state of disuse for many years. Reconstruction work under the auspices of the Saxon State Ministry of Finance was eventually completed in 2005. When it was rebuilt, traces of the destruction were purposely left visible, creating an impressive contrast with the architecture. Thus, aspects of the building's history were not concealed but made to stand out. This created architectural juxtapositions in which past and present converge. For their design, the working group consisting of the firm Auer + Weber + Architekten with Rolf Zimmermann and the state-owned enterprise Sächsisches Immobilien- und Baumanagement as the client were awarded the Architecture Prize of the Bund der Architekten Sachsen (Saxon Union of Architects).
Through the recreation of the Kunsthalle, which is now used by the Staatliche Kunstsammlungen Dresden, the city has now regained an impressive venue for art exhibitions. Numerous exhibitions offer visitors an informative and varied programme of events. However, the particular role of the Kunsthalle is to be a place for viewing and discussing contemporary art.
Tickets
groups (10 persons and more)
7 €
lage
Building
Kunsthalle im Lipsiusbau
Georg-Treu-Platz 1
01067 Dresden